How to make the most of a small kitchen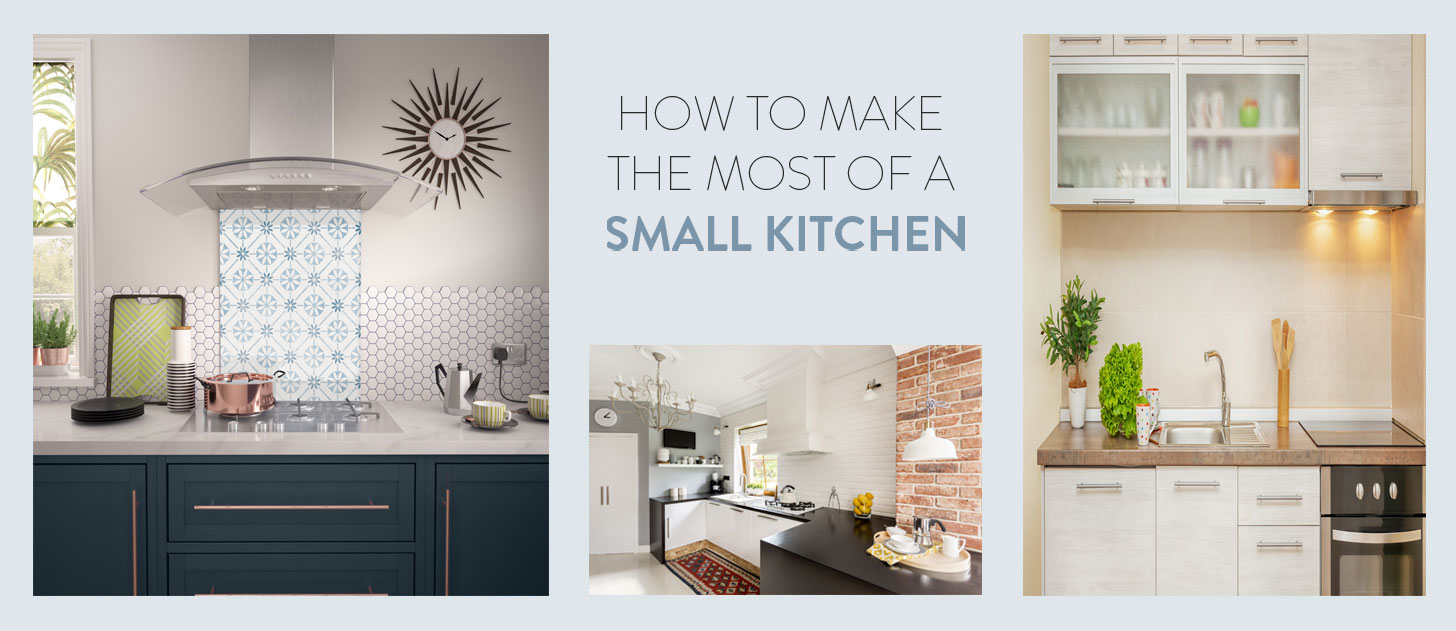 Many of us dream of having a large spacious kitchen with plenty of room to prepare food, sit and chat with family and friends and entertain guests. The reality, however, is often quite different and we find ourselves trying to achieve far too much in a much more restricted space. There are, nevertheless, a few tricks and design ideas which help make the most of a small kitchen whilst giving the impression that it's a lot larger.
Utilising wall space: If space is tight, then make sure you make the most of the space above any worksurfaces. Use a hanging rail to store utensils freeing up work top space. Fix a couple of high-level open shelves to store attractive boxes, herbs, and cookery books. Mount a magnetic board to house your spice jars. Ensure kitchen cabinets extend as far vertically as possible then make space in one of the lower cabinets for a small fold-way stool to make sure you can reach those higher shelves.
Utilising colour: It's common knowledge that white, off-whites, creams and paler shades work better in smaller spaces. However, whilst this is generally correct there is still opportunity to express your personality through colour when designing your kitchen. Used cleverly, a splash of colour can both inject personality as well as give the impression of more space.
Currently deep shades of blues and greens still dominate but mid shade hues are now starting to emerge. Embrace nature and combine forest green cabinets with mid shade moss green walls, add natural grained wood floor and shelving for texture and accessorise with metallic detailing such as a metallic effect self-adhesive glass splashback like Brass from the Splashback range or Champagne from the House Beautiful Collection.
Choosing the right cabinet finish: To maximise the illusion of additional space further, choose kitchen units with high gloss doors. Not only do they look contemporary and on trend, but their reflective surface enables natural light to bounce around the room making the space feel larger. Design wise units that are simple, modern, and uncluttered work best. Combine that with the sleek high gloss finish and your kitchen will automatically feel more spacious.
Introducing additional lighting: Clever lighting solutions embrace the space that is already there, while making the room feel bigger and brighter. Install task lighting for worktops and cooking areas which illuminates the dark corners and creates the illusion of more space. Introduce a feature light or two which can be used to highlight open shelving or a picture and consider floor spotlighting in plinths which is a clever way to make the area seem larger.
Utilising pattern: Pattern is back can be used in abundance throughout the home including decorative additions to the kitchen, even in smaller spaces. Rather than be overwhelming, an injection of pattern in a smaller kitchen can create a focal point in that space and set the tone for the overall feel. A well-chosen statement splashback like Jasper Indigo or Heritage Sky Blue from the House Beautiful Collection or Meadow Ochre from the Country Living Collection adds colour, interest, and character to the smallest of kitchens.