Metallic finish statement pieces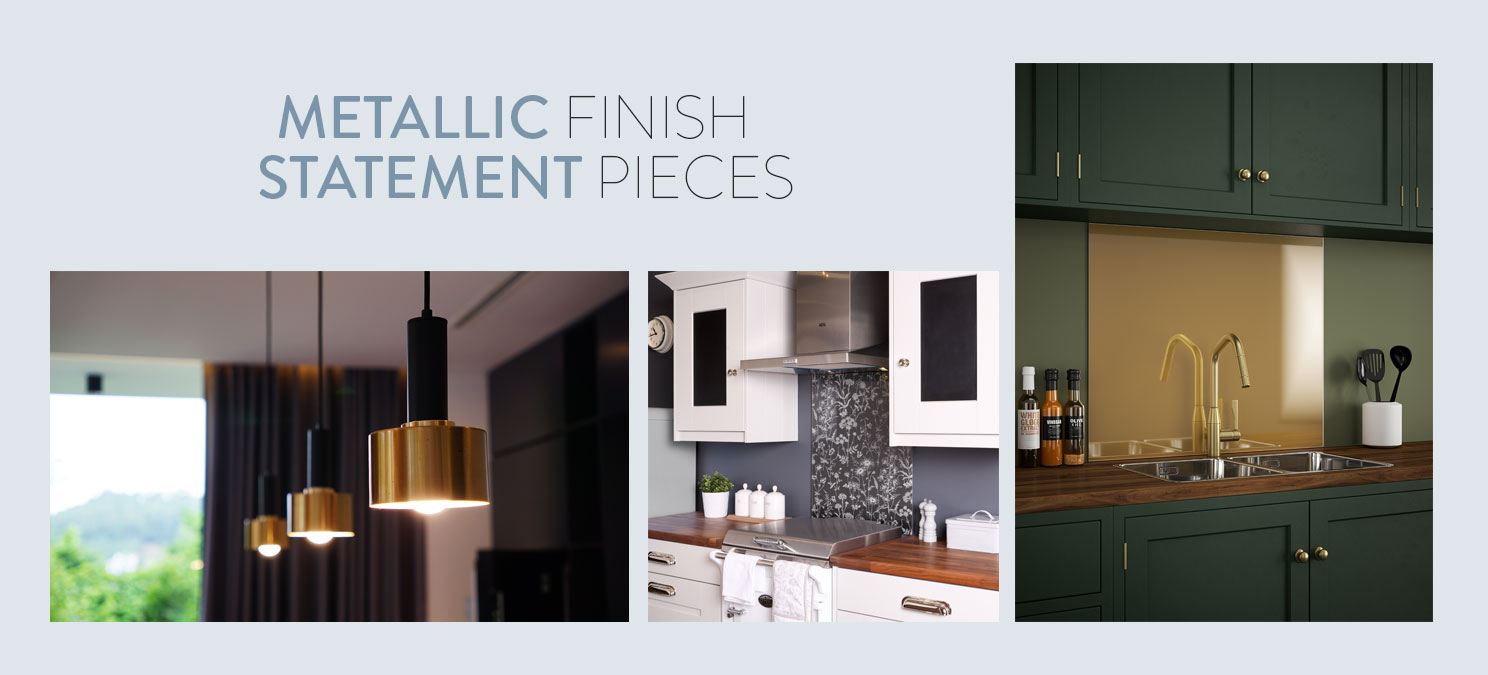 A popular trend that never seems to go out of style is adding metallic finishes in the kitchen. Metallic finishes create a fresh, modern look giving the room a sleek, unique finish.
Historically brass was the only metallic option available. Then along came chrome, which has been a firm favourite for many years. More recently copper has taken top spot – a warm metallic shade influenced by the popularity of rose gold in the world of fashion - which in turn has led to the resurgence of rose gold, brass and bronze.
Most, if not all, kitchens incorporate some form of metallic elements into their design. With so many finishes now available, it can be hard to choose which to include. Metallic finishes are no longer confined to taps and handles but can now be found across flat cabinet doors, handrails, lighting, upstands, and splashbacks. All of these create exciting focal points and accents.
Today, Instagram is full of photos from proud homeowners who have completely transformed their kitchens with the use of say copper, rose gold or brushed brass which are often created on a strict budget and without the help of tradesmen.
So how is the look achieved?
Swap cabinet handles for those with a metallic finish. Consider adding metal accents to your cabinets, such as metal trim or decorative metal inserts.
Shop around for appliances with different a metallic look - some appliances now come in brushed copper, brushed brass and matt black stainless steel providing a unique look and feel … even kettles, toasters, and waste bins!
Choose metallic pendant lights or chandeliers. These can provide a completely different ambiance as well as look to your kitchen and/or dining space. Ensure your chosen lighting matches your hardware or appliances for that seamless, cohesive interior design.
Install a metallic finish splashback which can be the feature statement piece and then base the rest of the room around this. Adding warmth and natural beauty, a copper splashback can work in both a traditional as well as contemporary kitchen. For a sleek and contemporary finish go with either platinum or rose gold. If you're worried about the maintenance and upkeep of a metallic finish splashback, then opt for a glass splashback with metallic finish which is easy to wipe clean and doesn't scratch.
Final tip, when using metallic finishes in a kitchen, it is important to balance them with other textures and materials such as wood or stone for a warm, inviting, harmonious look.