Interior Trends for 2022 - Part 1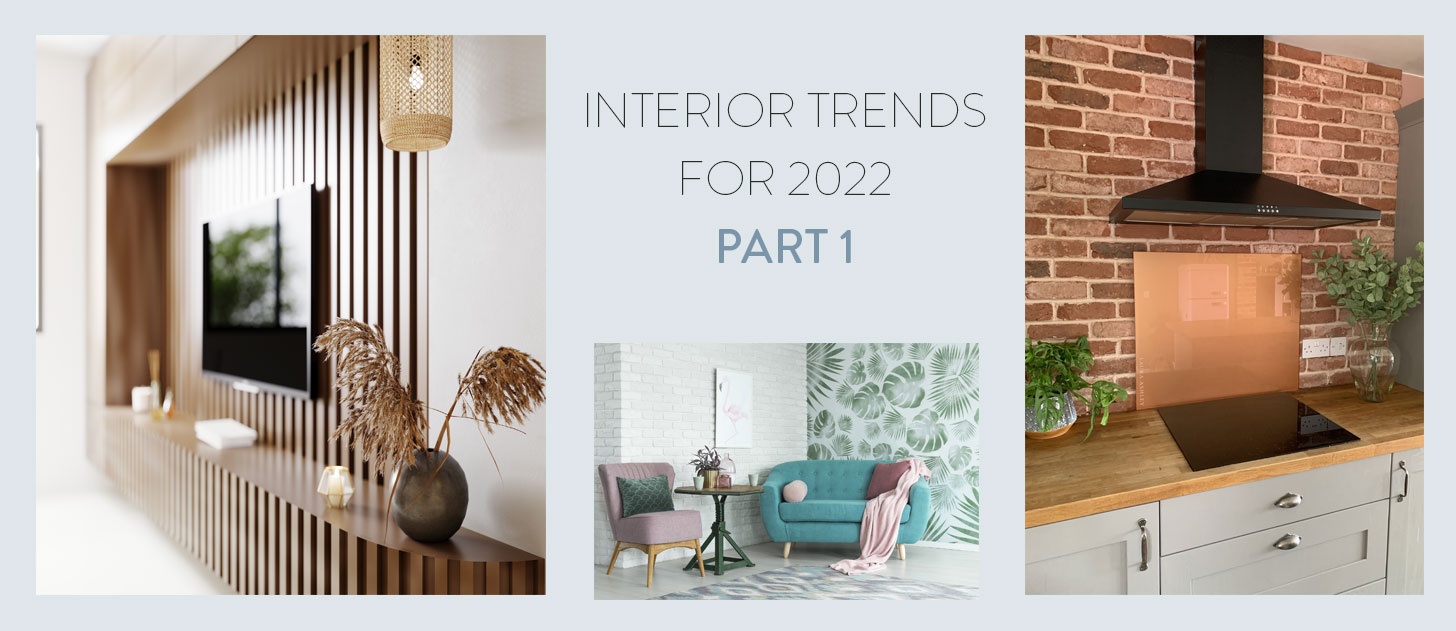 Claire O'Brien, head of Design at Splashback, provides insight into some of the key interior design trends for 2022
COLOUR AND THE NEW NEUTRALS...
Interior design in 2022 will be dominated by colour and there is lots of it, bringing vibrancy and energy into our homes. Grey, even though still strong, will no longer dominate as warmer neutrals move in, providing a restful platform for a broader immersion into colour, ultimately helping us connect with nature.
Sandy shades are back and at the helm of the new neutrals. Think canvas, wool, hemp and oatmeal, paired with natural materials such as grasscloth, cork, sculpted rattan and wood.
Colour has bounded back into our lives in many ways from bold colour zoning, painted wooden furniture and accessories such as lighting, colour pop door handles and flamingo pink taps. Rugs have statement designs with striking shades whilst seating is unapologetically flamboyant and bright.
This love of colour is also transported into the heart of the home - kitchens are no longer confined to neutrals, blues or greens There is a move to introduce a broader colour palette in this space with colourful stoves and Agas, painted walls, accessories and splashbacks, like the Laura Ashley Copper splashback.
Kitchen designers are introducing multiple shades to cabinets, differentiating from high and low level furniture and kitchen islands. For a more confident look, coloured cabinets are alternated in shade, creating a modern and a playful space. For a similar feel, pair up neutral elements in the kitchen with their colour alternatives - like a Country Living Peacock Blue splashback behind the hob and a Country Living Linen White splashback by the sink.
PERSUASIVE PATTERNS...
As we move on a journey of self-discovery, propelled by a maturing confidence in our design choices, embracing pattern alongside a growing love affair of colour is creating a perfect storm. Whether it be non-formal pattern, floral form, like the Laura Ashley Lisette or geometric form like the Laura Ashley Wicker Charcoal and House Beautiful Jasper Indigo splashbacks, pattern has many guises and is set to be big as we turn our backs on all things austere.
It can be retro, traditional or modern in feel, simple and orderly or bold and chaotic but whatever form it takes, there is no doubt that print and pattern plays a major part within interiors for 2022. Led by the explosion of creatively designed wallpapers and murals, pattern is now a familiar look throughout the home on blinds, cushions, tableware, splashbacks and tiling.
FLUTED FINISHES...
From glass doors to wooden furniture, fluted finishes are set to be everywhere. Taking inspiration from the 1920s, fluted interior glass has become a popular choice for doors in bathrooms and wet rooms. From there this purist reeded look has moved throughout the home and embraced multiple finishes.
We are starting to see ribbed bathroom basins and tiling, fluted light shades and table lamps, as well as fluted wooden walls, furniture and kitchen cabinets. This beautiful uniform linear texture gives an interior space an added dimension and packs a visual punch while adding a delicate and soothing flurry of texture with an accessory or accent piece. Introduce a touch of the 1920s industrial vibe with a matt grey splashback – such as the Country Living Storm Grey splashback, complemented by matching accessories, for example door handles and taps.