Interior Trends for 2022 - Part 2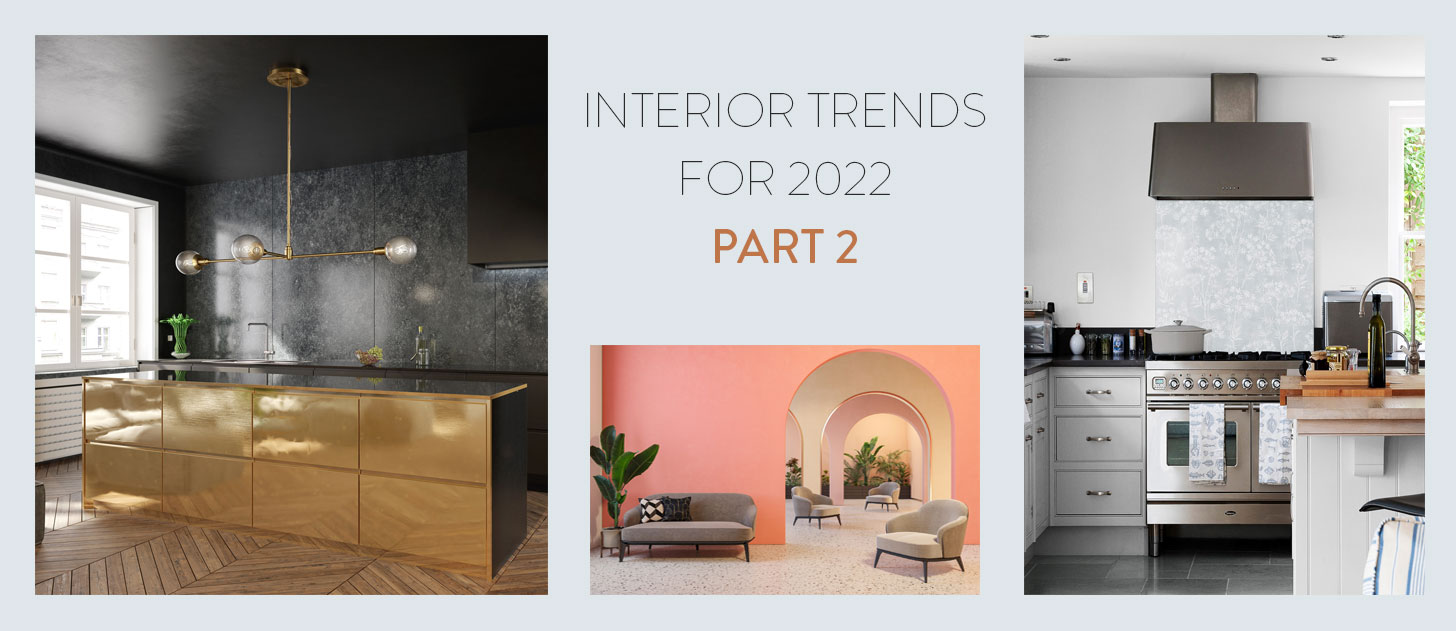 Further insight into key interior design trends for 2022 ...
AHEAD OF THE CURVE
Seeking comfort in our homes and cocooning ourselves away from the world is not a new trend, but this lifestyle choice has moved on a notch with our design preferences. From gently arched walls to shapely sofas and mirrors, it's all about curves.
Confident and comforting, whilst oozing 70s cool, these shapely contours can be combined with their right angled opposites for a more modern feel - like a sharp Cut to Fit metallic splashback wrapped around kitchen appliances, or a straight glass splashback, placed strategically behind the sink or hobs.
Curves have an immediate empathy with nature and are a welcoming feature to any interior. They help us feel connected to our surroundings, making us feel warm and safe. These curvaceous forms can be seen in cabinets, headboards, sinks and a range of accessories as well as kitchen islands. Whether it be lozenge shapes, scalloped edges or purist circular motifs, adding the curve to an interior creates a sense of non-confrontational assertiveness.
BOLD AS BRASS
Metallic finishes are never far from our interior design schemes because of their versatility and visual impact. They complement a multitude of interior trends with ease and confidence. The latest favourite is brass, which is back with a bang!
Partly popularised by the previous design trend of Twenties Glamour, with its moody greens and brass accessories, and partly driven by the lifestyle trend of Mid Century Modern, brass is quickly becoming a dominating element in accessories throughout our homes.
Brass is warm and appealing and is the perfect partner in kitchens of all styles. Combined with natural stones like marble, vibrant modern shades, dark and moody blues and greens or rough hewn woods, brass with its subdued worldly presence is captivating and self-assured. The House Beautiful Champagne splashback is a perfect example of how this metallic finish can harmonise any kitchen and inject a touch of glamour and chic into any space. Splashback also offers a variety of marble-effect glass splashbacks, with a new Brass finish coming soon.

COTTAGE CORE
Cottage Core is no stranger to our living spaces, and its popularity is set to grow over the coming year. Cottage Core is a design trend that brings the outdoors in at every opportunity - helping us connect with nature once again. It embraces sustainability and celebrates a return to artisanal skills such as foraging and home baking.
The Cottage Core trend is the epitome of The Good Life, drawing inspiration from the countryside with its sprawling meadows and wildflowers. It harnesses the look and charm of an idyllic country cottage through embracing familiar floral prints and patterns, chalk painted surfaces, organic textures and woods - creating a wholesome, pastoral and mindful rural vibe.
A quick and easy way to introduce Cottage Core into your kitchen space is to install a floral splashback – why not opt for the Country Living Meadow Ochre splashback, or the Country Living Meadow Pebble splashback, both bringing the ambience of nature indoors. For that chalky feel, opt for matt finishes - like Splashback's Matt Black Finish splashback paired with a matt black tap.