Introducing splashbacks
Splashbacks are used mainly in kitchens to protect walls and other surfaces from splashes, stains and steam. Placed behind hobs, cookers or ranges to protect walls from splashes caused by cooking as well as from heat damage, splashbacks can also be installed behind sinks to prevent mould and mildew developing as a result of spilt, sprayed or splashed water.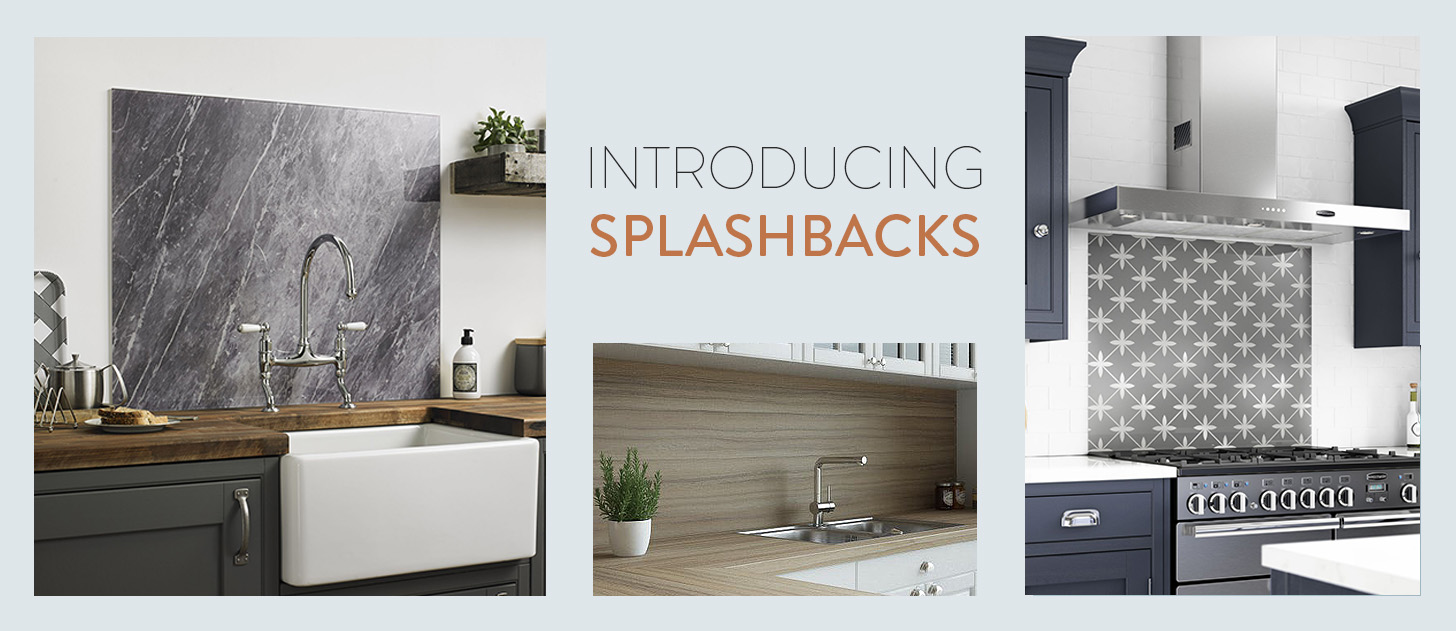 Splashbacks have gained, and are continuing to gain, popularity across the UK, appearing in newly built modern homes, renovated properties, as well as refurbished kitchens and look just as good at home in a traditional styled kitchen as a contemporary one. Utility rooms and boot rooms can also benefit from a splashback behind the sink to protect walls from all the marks made from general household activities - everything from cleaning boots to washing the dog!
Usually rectangular in shape, splashbacks generally come in two sizes, 600mm x 750 mm or 900mm x 750mm, which fit behind the majority of hobs, ovens, ranges and sinks. Splashbacks can also be cut to size if a bespoke measurements are required. As well as providing a functional solution to everyday problems, splashbacks are designed to enhance or complement the interior of a kitchen and can be made from a variety of materials.
Stainless-steel: a sheet of flat steel fixed directly to the wall. Relatively affordable and easy-to-clean, a stainless-steel splashback is heat -resistant and durable, however, will develop scratches over time.
Porcelain and ceramic tiles: are scratch, heat and water-resistant, and are easy to clean. With a wide range of colours and designs to choose from, tiles are also easy to install. If a tile splashback becomes chipped or damaged however, it will need to be removed and replaced, and over time grout will discolour and need to be replaced.
Engineered stone: usually manufactured from crushed quartz and resin, engineered stone is very tough, will not stain and is easy to clean. However, an engineered stone splashback is expensive and generally requires specialists to install.
Composites: are typically made from a blend of one-third resin and two-thirds natural mineral. They are highly flexible and can be used to provide streamlined curves that require no joints between worktop and splashback. However, some composite splashback varieties are prone to scratching and lack heat-resistance.
Laminate: is more affordable, hard-wearing, and easy-to-clean. However, it should not be used behind a gas hob because of its flammability and laminate splashbacks need to be carefully installed to prevent water ingress at joints.
Marble: while providing a touch of luxury to a room, a marble splashback is porous and so must be sealed and resealed to prevent staining and also lacks scratch-resistance.
Glass: the most popular splashback finish of all.
Commonly used to add colour as well as a sleek look, glass splashbacks can be fitted in a large, seamless panel. They are easy to fix to the wall, are stronger and more durable thanks to the use of tempered glass, are easy to clean, easy to maintain, more scratch-resistant, more hygienic and simply look better for longer.