Quick kitchen wins in a lockdown
It is not uncommon for many of us to come up with every excuse in the book as to why we put off undertaking DIY tasks! The reasons most often cited are lack of time, lack of know-how or lack of money. However, with most of us housebound during this global pandemic, why not spend time giving your home a bit of extra attention. At best it may add a little extra value to your property, or simply just put a smile on your face and fill you with a sense of pride.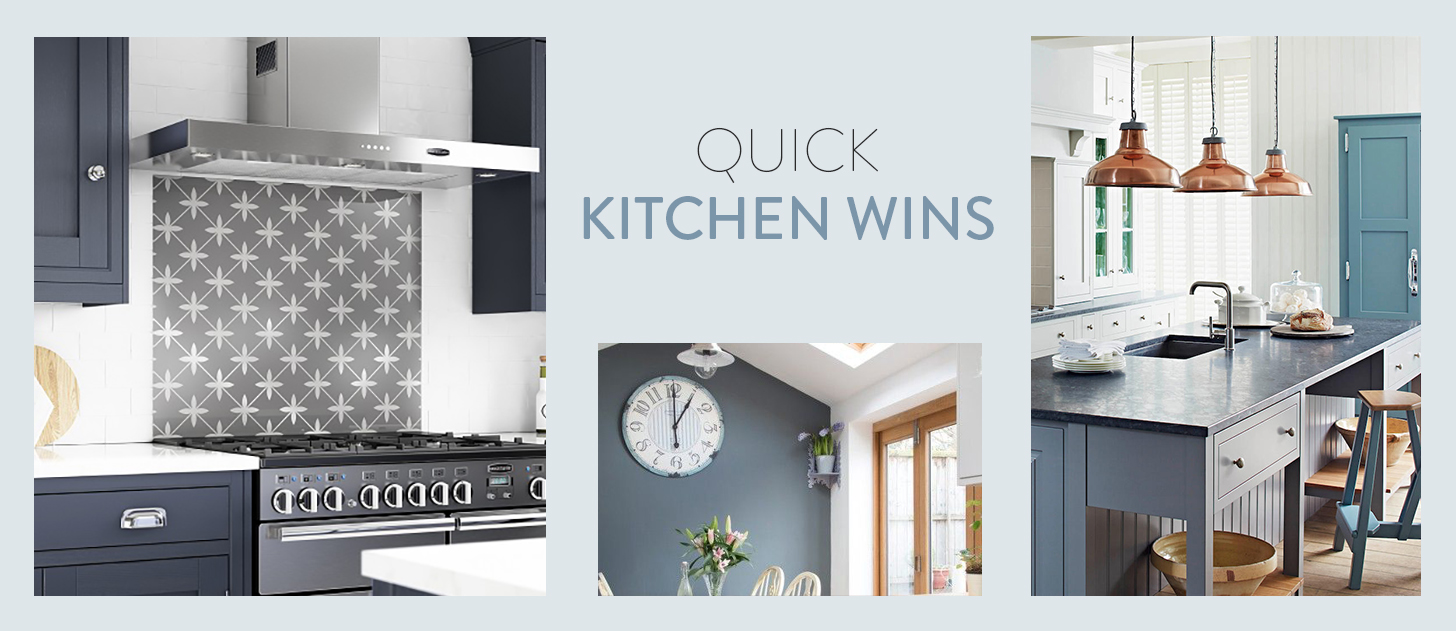 One of the places we are all spending plenty of time right now is in our kitchens – preparing and eating all our meals at home. While it may not be the best time to renovate the entire kitchen or install new cabinet units, there are still a number of small, easy DIY tasks that can be done, putting our lockdown time to good use as well as making practical and aesthetic improvements to the heart of the home.
Revitalise with paint: Spending more time in one place than usual makes us notice things more, for instance, splash or finger marks on a wall or faded areas where the paint has washed or rubbed away.
Treat your wall, floor, ceiling or wherever else has lost its colour to a fresh coat of paint. If there are just a few marks that need to be covered over, carefully apply a stain blocker to the relevant surface first to prevent the same marks coming through again. Alternatively, why not paint a feature wall to ring the changes.
Load up on lighting: By simply changing light fittings your kitchen can take on a completely new look and feel. Whether you introduce vintage lanterns, pendant lights or install a statement light feature over a breakfast bar or island, you will without doubt see your kitchen in a new light.
Easy, accessible storage: Think carefully as to how and when you use various items in your kitchen. With key everyday utensils, crockery and cookware having their place, you will always know where to find them.
Consider fixing a utensil bar to the wall near your hob, range or oven to keep spoons, ladles and strainers to hand. Hanging a horizontal pot rail from the ceiling is a godsend for storing saucepans and frying pans while a plate rack mounted on a wall will not only create a feature piece but also free up cabinet or drawer space.
Install a statement piece: Why not fix a self-adhesive glass splashback behind a hob or range to protect the wall behind from splashes caused by cooking as well as from heat damage? A splashback is a quick and easy way to inject colour and creativity into a kitchen and those made of glass also rate highly in the hygiene stakes as they just need a quick wipe down. Self-adhesive splashbacks from splashback.co.uk can be fixed in 3 simple steps – peel away the backing, stick to a clean, smooth surface and then seal around the glass with clear silicone sealant. Splashbacks are available in a wide range of plain colours, metallic finishes, and patterned designs including ranges from Laura Ashley, House Beautiful and Country Living. There really is a splashback for everyone!