The beauty of a Matt finish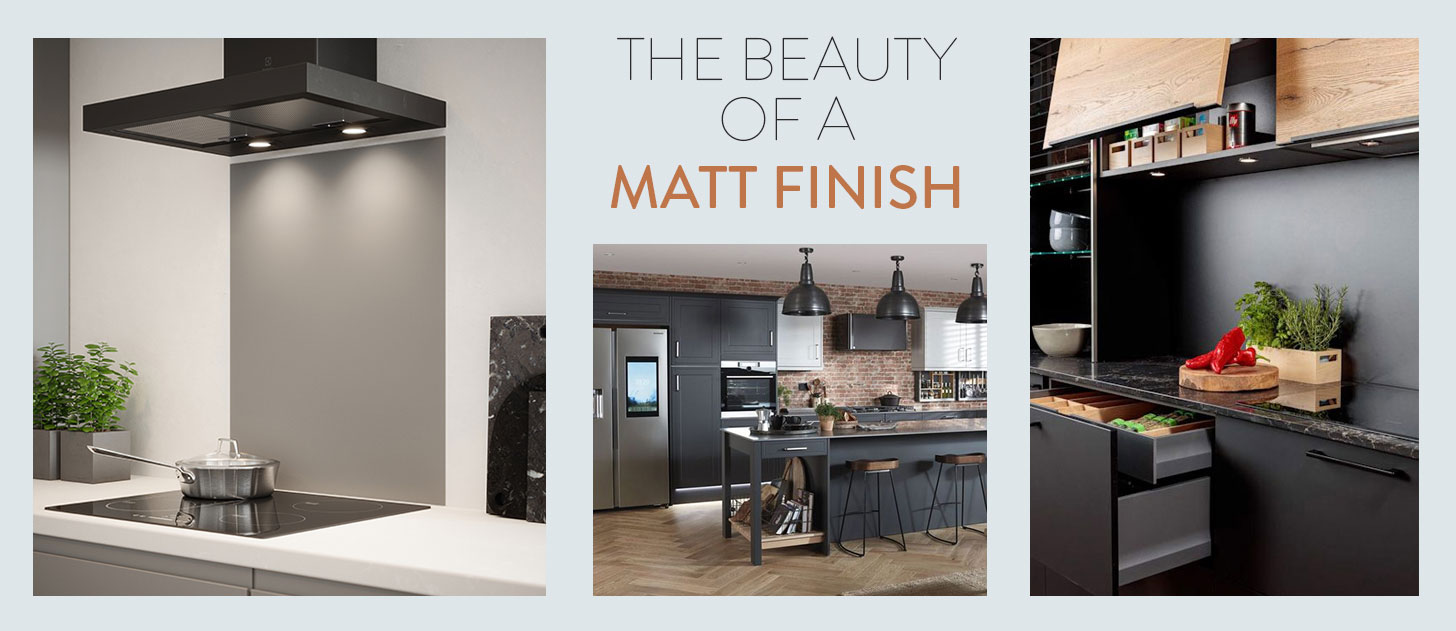 Alongside gloss, matt now provides a very credible alternative finish. With technology allowing us to enjoy the more natural, toned-down beauty of matt, both inside and outside our homes, interior design and home décor continues to embrace this velvety, smooth, professional finish that is understated yet elegant.
All about colour, which appears so even it looks solid from every angle, matt finishes are particularly popular when paired together with another material such as wood, metallics or gloss for a contrasting and coordinated look.
Popular in bathrooms, matt basins allow the shape of the vessel to shine. Matt white and matt black basins give a more understated, natural look and feel. Gloss tiles were predominantly the go-to for kitchens and bathrooms. No longer. Matt tiles are now very much on trend creating interesting surfaces with a depth of colour that absorbs light and are also appealing due to their low-maintenance finish, allowing the shape, texture, and pattern of the tile to be the feature, instead of relying on the gloss level to create the wow-factor.
Matt paint is hugely popular for similar reasons. Not only can it be used on walls, furniture, fixtures, and ceramics all over the house, but is often combined with metallic and high-gloss glazes to create a striking contrast of sheens. A matt flat finish can be used to hide imperfections in older walls and painters love using it in new homes where it better hides joints on previously unpainted walls.
The introduction of matt finishes in the kitchen doesn't stop at tiles and paint. Less reflective than gloss, matt finish splashbacks exude sophistication and elegance. Highly versatile, a matt finish splashback can harmonise with an interior theme that is muted and classic or can provide a statement and contradict against a gloss backdrop, resulting in a modern, more edgy feel. Matt splashbacks can be used to complete a kitchen with matt units or complement a kitchen with matt accessories such as handles and taps.
MATT BLACK FINISH: Neutral in colour; our Matt Black Finish glass splashback sits well alongside other matt kitchen accessories and looks stunning with any colour scheme.
MATT GREY FINISH: Effortless and easy to live with, our mid-toned Matt Grey Finish glass splashback works well with stainless steel and more brightly coloured accent items yet looks equally stunning in a kitchen with more muted monochrome tones.
MATT WHITE FINISH: Being neutral in colour, our Matt White Finish glass splashback works well with any colour scheme combination and creates an illusion of space when used with well-placed spotlights in a smaller or slightly darker kitchen.
Available in two sizes; 600mm x 750mm x 6mm and 900mm x 750mm x 6mm, our matt finish splashbacks are made in Britain, have a 5yr guarantee and can be easily installed thanks to our innovative Peel Stick & Seal TM self-adhesive backing.