Ways to add colour to your kitchen
Colour plays a vitally important role in the world in which we live and has a crucial role to play in our everyday lives. It is a form of non-verbal communication which can sway our thinking, change our actions, cause reactions and affect well-being. Colour matters….. and incorporating colour into our kitchens matters too!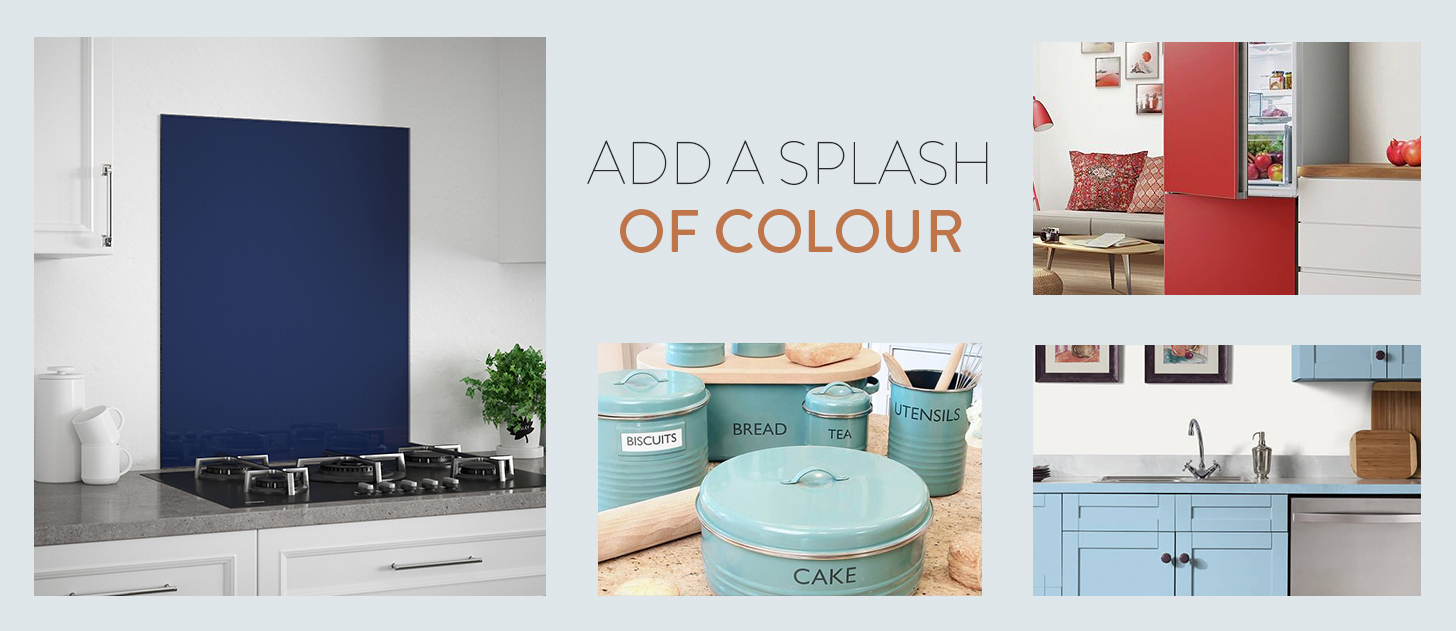 There are many ways to add colour - below are some great ideas that might inspire.
Cabinets:
Consider scale – a big kitchen can take coloured cabinets more easily, particularly if there's a lot of natural light
In a north-facing room choose warm shades such as reds and oranges to help compensate for lack of direct sunlight
Combine bright coloured cabinets with textured worktops or flooring for a more balanced, softer effect
Pastels are a great compromise between primary shades and subtle neutrals
Appliances:
Bold coloured appliances can go out of fashion. Pick a shade that's timeless, eg. pale grey or duck-egg blue
Red is a popular appliance colour choice but reds can vary enormously. Burgundy red feels more traditional, while candy-apple red is more retro. So, make sure you see in the flesh before you buy
If pattern appeals, look out for limited-edition range cookers and fridges by established manufacturers
Displaying coloured appliances together will maximise impact, while spreading them out can create unity in a larger kitchen
Paint:
Feature walls, which concentrate colour in one area, are a great way to jazz up a neutral kitchen. Choose plain, smooth wall that can be easily be repainted when you feel like a change
Think about the paint finish. Matt emulsion provides a flat colour with slight textural quality, while satin or eggshell has a soft sheen that's easier to clean
If you have an open-plan scheme, carry your chosen colour through from one area to the other to create a smoother flow
Tiles & Splashbacks:
Think about scale. If covering a large area in a small room, tone down the colour choice accordingly
Tiles and splashbacks are now available in an array of colours and designs - from blues, blacks, greys and copper to floral, patterns and natural stone effects. Whether your want to harmonise or make a statement, there really is something to suit all tastes
Combine colour with practicality when it comes to tiles and splashbacks – the function is to protect walls, so ensure they are waterproof, easy to clean and repel grease
Accessories:
Let your imagination run wild – think colourful chopping boards, crockery, storage tins, textiles, bread bins and cake-stands!
Some major online retailers allow you to research for products according to colour for easy coordination and many high street retailers colour block within their displays
Larger supermarkets stock inexpensive colourful accessories making it easy to change your scheme with the seasons, your mood or simply when you decide you want a refresh